India is reportedly planning an ambitious electrification programme.Niti Aayog has proposed electrification of two – and three-wheeled motorcycles in the next six to eight years to reduce reliance on fossil fuels and reduce environmental pollution.
India is by far the world's largest market for two-wheelers and tricycles.  Currently, more than three-quarters of vehicles on Indian roads are two – or three-wheeled.
The Indian government has set an ambitious goal of leading the world in the electrification of two-wheelers and tricycles by 2030.  The scheme provides incentives for the production and sale of electric two-wheelers and tricycles to a certain extent.  The plan will be finalised after consultation with industry insiders.
The electric tricycle market may have more potential to explode market sales, because tricycle is very suitable for short distance transportation of people and goods.  Compressed natural gas tricycles are ubiquitous in both urban and rural India.  It is important to Indians that electric tricycles have a price advantage over CNG tricycles, which are cheaper but largely obsolete.  Electric tricycles only need to improve the charging and transportation capacity problems existing in electric vehicles, and it is not impossible to replace the oil gas tricycles as a whole.
In addition to the advantages of electric tricycles themselves, the Indian government is also trying to promote electric tricycles to the Indian people, which is one of the important reasons why electric tricycles may have a large growth in India.  Modi attended the launch of a three-wheeled ride-hailing service launched by local ride-hailing platform OLA and rode an electric tricycle around the stadium where the launch was held, becoming the "first Indian" to book an electric tuk-tuk online.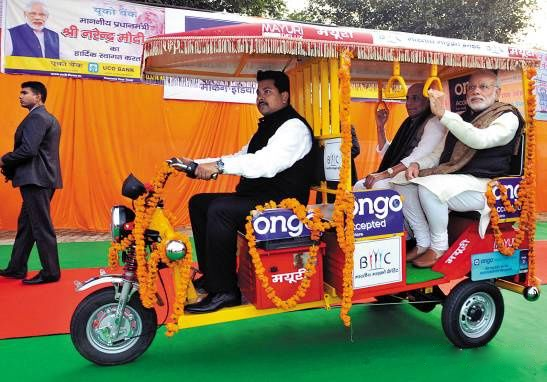 The Indian government is likely to approve a proposal by a senior government body to make electric tricycles compulsory from April 2023, The Times of India reported.  In addition, all two-wheeled vehicles with engines up to 150cc will have to be electric by April 2025.  The report said the INSTITUTE also proposed a similar electrification deadline for school buses and freight vehicles.
Whatever the details, it's clear that something big is afoot.  Over the next few years, India's electric vehicle industry is expected to undergo dramatic changes that will significantly reduce pollution and harmful emissions.
This is a huge opportunity for Both Domestic and foreign manufacturers in India, and the move is likely to resonate in global markets as well.
---
Post time: Apr-16-2022